Unfortunate Spacemen Wiki
Welcome to the
Official Unfortunate Spacemen Wiki
Welcome to the Official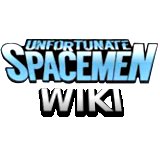 We are currently maintaining 385 pages (59 articles).
Please feel free to contribute by creating new articles or expanding existing ones.
About Unfortunate Spacemen
Unfortunate Spacemen is a game about space and space-based murder in space developed by Sandswept Studios - and now is further developed by Geoff "Zag" Keene alone. The core element of the game is about a group of spacemen, who are trying to survive on a space station. And not everyone looking like a fellow spaceman is really one, but a gruesome monster, trying to kill the other astronauts. Players not only can play the spacemen, but also can slip into the role of the monster.

Play for FREE now on Steam!
Content
Spacemen Perks
Monster Perks

Medical Nanobots
Antibodies
Intake Valves
Springy Step
Spare Keycard
Welder
Magnetic Boots
Blast Shield
Janitor
Space Milk
Action Hero


Chitin
Patience
Titanium Claws
Posterior Claws
Decorpsinator
Nictitating Membrane
Nocturnal
Decoy
Acid Monster
Toxic Ink
Void Beast

Wiki
Help Wiki
Community
---
To write a new article, just enter the article title in the box below or in the search box at the top of the page.
---
Adding content

If you are unsure of what to do or how to create a page, search for a few articles on the same topic and see what they look like. You can always view the source code in a wiki and learn from what others have done.
An edit doesn't have to be massive; if you feel you don't want to create whole articles, then just fixing spelling errors and broken links is enough.